News Update - May 2020
Engineering notes
By Tony Massau
Stephenson Engineering have forged the radius rods and will be machining them. Other items of the motion are in their work programme.
John Pagett has been busy at home making new nozzles for the sand ejectors utilising a taper reamer which he made himself for the internal tapered bore.
At the present time the situation of recent weeks remains the same in that we are unable to work on 82045 at Bridgnorth, but we look forward to returning when this becomes possible.
Future Fund

By Chris Proudfoot
This is now starting to build up nicely, thanks to the generosity of folks like you. This isn't really the right time to be promoting our own interests, but I hope very much that our friends will continue to support the Future Fund. Once the engine is running, all our finances will be channelled into the Fund: the plan is to generate a structured income built from monthly donations - thanks to our charitable status, much of the income derived from this source attracts Gift Aid, at present payable at 25% of the sum donated, therefore a very significant amount - added to steaming fees from the SVR, plus hire-out fees from other railways which the engine will visit.

For its first year of operating, 82045 will run only on the Severn Valley Railway, but after that it will be available for short-term hire to other steam lines subject to the agreement of the SVR and the Trust. A number of railways have already expressed a keen interest in the loco, so I'm pretty sure we shall have a good revenue stream from this source, too.
Annual General Meeting

I think most of us are in a state of confusion about the corona virus, and so we'd better give you advance warning that the planned delayed 2020 AGM may not take place on 25th July as previously (tentatively) announced. A decision will be made before the June website updates appear, so let's leave it in abeyance for another month.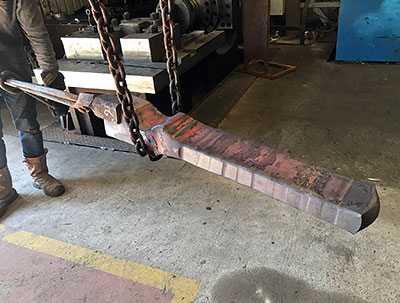 Radius rod forging. Photo: Robert Stephenson.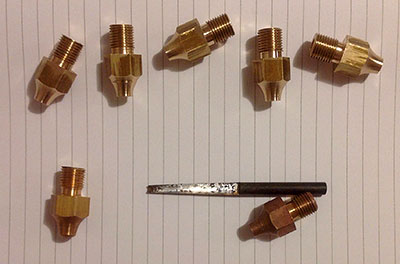 Sand ejector nozzles and taper reamer. Photo: John Pagett.
Memories of Steam

We are thinking about a possible new feature for the monthly updates: not exactly an archive of the history of the 82xxx tanks, but more of a series of your memories. The format is yet to be agreed, but, as the days of BR steam recede further and further into the past, so memories become more and more precious.

I'd like to start with a few lines from Tony Massau, whose pedigree includes several years spent driving and firing on the Ffestiniog Railway way back when the neighbouring Cambrian Coast line was still steam-worked. His memories include the last of the "Manors", but relate chiefly to the Riddles engines that replaced them:

My own memories were limited to the Cambrian Coast line in the early 1960's when volunteering on the FR and then taking up employment there in October 1964 and lodging with Evie Lloyd, one of the BR signalmen at Porthmadog signal box. He used to come home that autumn saying the diesels were coming in a couple of weeks. This happened a few times as their arrival was inevitably postponed but eventually it happened and the first generation DMU's took over the local all stations stopping services. There were various breakdowns and stalling on the gradients at first and briefly a class 3 tank re-appeared from the grave to restore order, but it didn't last forever and then they were gone for good leaving just class 4 75XXXs on the freights until early 1967. I had one run behind an 82XXX from Porthmadog to Afon Wen junction in that first autumn on my way to Manchester via Bangor and Chester for a home visit, plus a cracking run between Bangor and Chester behind 70038 Robin Hood in the dark.

I have never stopped kicking myself for not taking photos and a greater interest at the time. I was mainly interested in the FR then and was very slow to believe that BR steam really would be all gone within a very few short years.

I think many of us feel the same regrets, so if you have a cameo memory of those far-off days - preferably but not exclusively concerned with the 82XXX class locos - please let us know.