News Update - June 2020
Engineering notes
Tony Massau
Although we have little to report this month, work continues at Stephenson Engineering on motion components and at Philip Oldfield Engineering on the regulator valve assembly.
Annual General Meeting
Chris Proudford
We have reluctantly decided that it would be unwise to hold this year's AGM on 25th July as provisionally announced.
All members will be informed of revised plans during July. We are obliged by our Constitution to hold an AGM within fifteen months of the date of the previous meeting, and as far as we know this still applies, even in the present circumstances. We will be in touch before 25th July to let you know what is happening.
Nil Desperandum!
Please don't be concerned about the sparseness of this month's updates: I can assure you that all is well with 82045. Our chaps are chafing at the bit to resume working parties at Bridgnorth. These should be starting again in the next few weeks, subject of course to the necessary precautions. Prior to the lockdown, the team had virtually completed the pony assemblies, so you can look forward to seeing a 2-6-2 rolling (and braked) chassis soon.
Memories of 82xxx in service
In response to last month's request Dave Harper writes:
When I joined the RAF as a boy entrant in 1961 and went to RAF Cosford our leaves where arranging much like a schools, so for short leaves i.e. Easter and Whitsun, I went to my grandfather at Scarborough. The shed (50E) had acquired two 82xxx tanks for station pilot duties but all four turned up during the next couple of years as they wandered around between Scarborough, Malton and Whitby on local services. Of the four 82029 made it to be the last in service with 82019. Ironically, in old age I work as a volunteer on the Eden Valley Railway where 82026 - 29 first started their service with BR.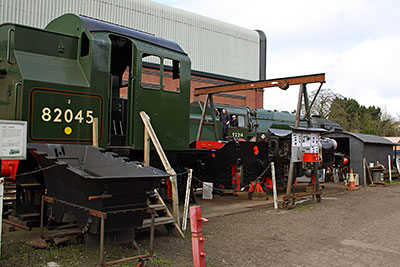 A photo from a few years ago of 92214 passing 82045 at Bridgnorth. Photo: Tony Massau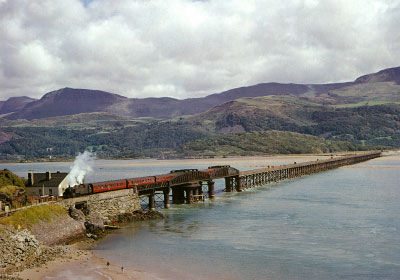 A classic Cambrian shot of an 82XXX on Barmouth bridge. Photo: we're not sure of the source of the photo.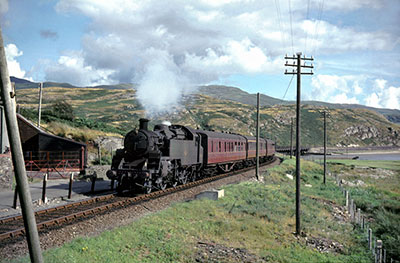 Another Cambrian shot of an 82XXX having passed over the Briwet bridge and heading towards Minffordd from Penrhyndeudraeth. Photo: Geoff Plumm collection.