News Update - April 2018
Three wheels on my wagon!
We are delighted to announce that 82045 is now sitting on its coupled wheelsets. Tuesday 17th. April was the selected day for the operation. A mobile crane was hired and set up alongside 82045. The overhead gantry that we use for small lifting jobs was lifted out of the way and then 82045 was lifted clear of the concrete pad that had been its resting place for many years. A length of track was laid on the concrete and the wheelsets then placed on this track with the aid of the SVR's JCB. The axleboxes were placed on to their respective journals, the wheels positioned the correct distance apart from each other and the chassis then very carefully lowered down whilst the axleboxes were located into the horn guides. The whole job took the best part of the day but proceeded quite smoothly and we are very grateful to Stourport Crane Hire Ltd. and ABA Crane Hire Ltd. for their very professional and expert role in the day's proceedings. The horn stays are now refitted and we are moving on towards the fitting of the springs and their associated bits.
The door is now open towards fitting many more components, as always finance permitting, with the end view of a complete rolling chassis, although the task should not be underestimated. There is the lubrication system to install, braking system, sanding equipment, all the motion, two water tanks to install and the connecting balance pipe to construct and last but not least two pony trucks to build.
We have been advised that in due course 82045's chassis will be transferred into the erecting shop at Bridgnorth once space becomes available.
Boiler Construction
We announced at the recent Annual General Meeting that we were in receipt of a very detailed quotation from the SVR for completion of the build of the boiler and firebox, a quotation that we have accepted. The agreement states that when the overhaul of the boiler of locomotive No.42968 is completed and that boiler leaves the boiler shop work will resume on 82045's boiler/firebox and move towards completion.
AGM
Once again another record attendance of ninety was achieved at our AGM -which was very pleasing. Engineering Services Manager Neil Taylor addressed the meeting and gave an insight into the activities within Bridgnorth Locomotive Works and 82045's position in all this. 82045's Independent Competent Engineer Martyn Ashworth then spoke about his role within The 82045 Steam Locomotive Trust.
Publicity and Fundraising
As you will see from Tony's notes, the recent past has seen some fairly momentous developments in the life of the project. The Severn Valley Railway want 82045 in service and earning its keep as soon as possible, and the decision has therefore been taken to put more work out to contract: there is an enormous amount to be done during the lead-time to completion of the boiler. Build time is estimated at 15-18 months starting when the boiler of 42968 is ready, and the SVR have said that they want to see 82045 in steam six months after its own boiler is completed - phew!
In regard to fundraising, this is both good and somewhat worrying news: good in that our many supporters can look forward to rapid progress with the remainder of the build; and a little unsettling for the bloke entrusted with raising the ackers. Our financial situation remains healthy, but I am now looking at the prospect of having to raise upwards of £200,000 over and above what our assured income streams (monthly standing orders, quarterly VAT refunds, annual Gift Aid; one-off donations add to this total but cannot be quantified) will bring in over the next three years. I'm working on a number of ideas for achieving this target, but would always appreciate your input, too: if you have any ideas that might help us bring in the money, please don't hesitate to get in touch with me, either by email chris.proudfoot045@btinternet.com or on 01928 787255. Thanks - I look forward to hearing from you!
I should add, by the way, that our remarkable engineering team will be hard at work throughout this time, too. I have the engineering nous of a frog and can only admire from a distance the dedication and degree of skill of my colleagues, which have enabled me up to now to keep a tight grasp on the purse strings.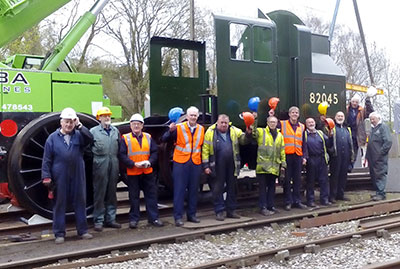 With the wheels in, our motley crew celebrate a very satisfying days work! Photo: Barbara Massau.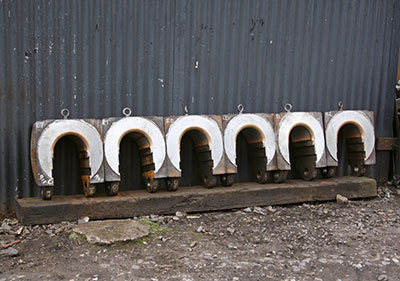 Axleboxes in a row awaiting fitting to the axle journals. Photo: Tony Massau.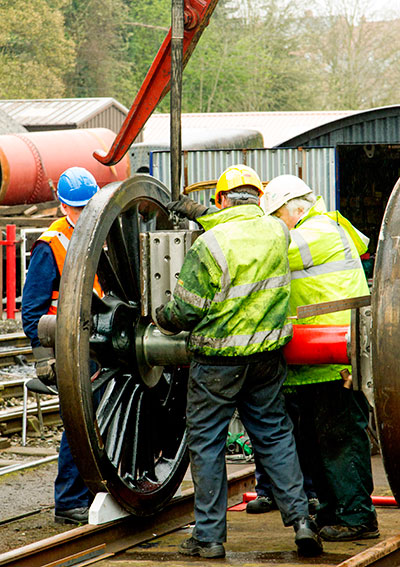 Axle box fitting. Photo: NigeWWCC SVR.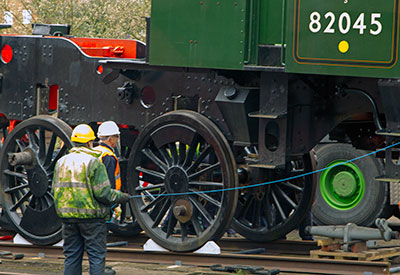 Very slowly lowering the chassis onto the trailing wheelsets. Photo: NigeWWCC SVR.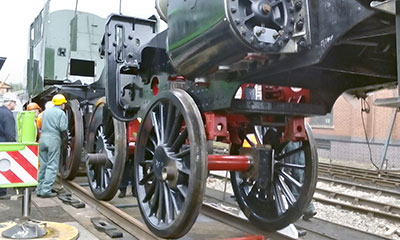 A little further! Photo: Barbara Massau.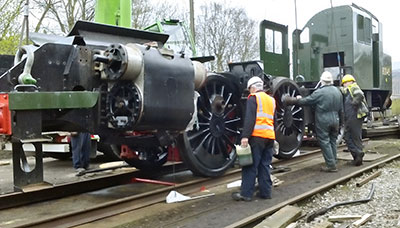 With leading and driving in, just bit more to go! Photo: Barbara Massau.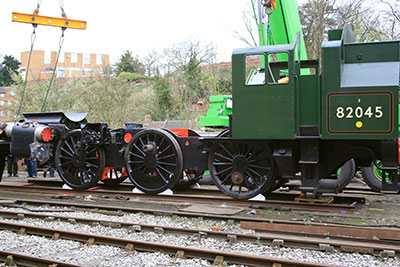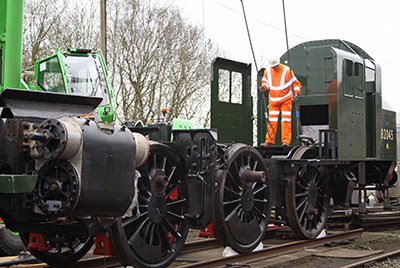 And we're down! Safely sitting on all three wheelsets. Photos: Tony Massau.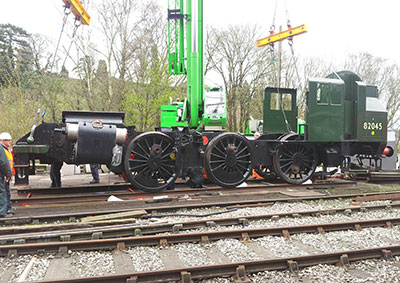 Shortly after being lowered on to its wheels. Photo: John Pagett.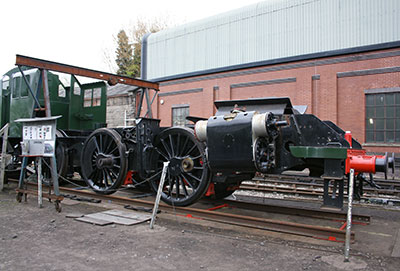 82045 A few days after wheeling. Photo: Tony Massau.